Remote Kayak Tours From Tofino, BC
Come explore the beauty that lies outside the Tofino Harbour as you embark on an intimate guided kayak trip through the quiet waters of remote inlets away from the busy Tofino Harbour.
Join us on a beautiful 4.5 hour morning or afternoon trip, or a relaxing 6.5 hour day excursion (for larger groups only). Kayaking allows you to explore coastlines that would otherwise be inaccessible by any larger vessels and through this, it opens an opportunity to feel a deeper connection to the ocean as you sit only inches above its surface. As the sun rises in the morning or begins to ease off throughout the afternoon the most common sounds you will hear will be that of your paddle blade as it eases in and out of the water with each stroke you take, only to be contested by the cries of an eagle or a black bear roaming the tidal waters.
Our 30 minute boat ride will take you on a short but sweet ride away from the hustle and bustle of town. Once arriving at our private location you will be given a short safety briefing before entering the kayaks and paddling along the vivid shore line. While enjoying the calm waters and discussing the history of Clayoquot Sound we will also be looking for Harbour Seals, Black Bears, Bald Eagles and various other forms of wildlife that out populate humans in this area. Snack breaks are encouraged and can be done while floating on the water using a healthy piece of Kelp as a natural anchor. On our 6.5 hour trips (groups only) there is the option of adding a catered lunch for an additional fee.
REMOTE GUIDED KAYAK TRIPS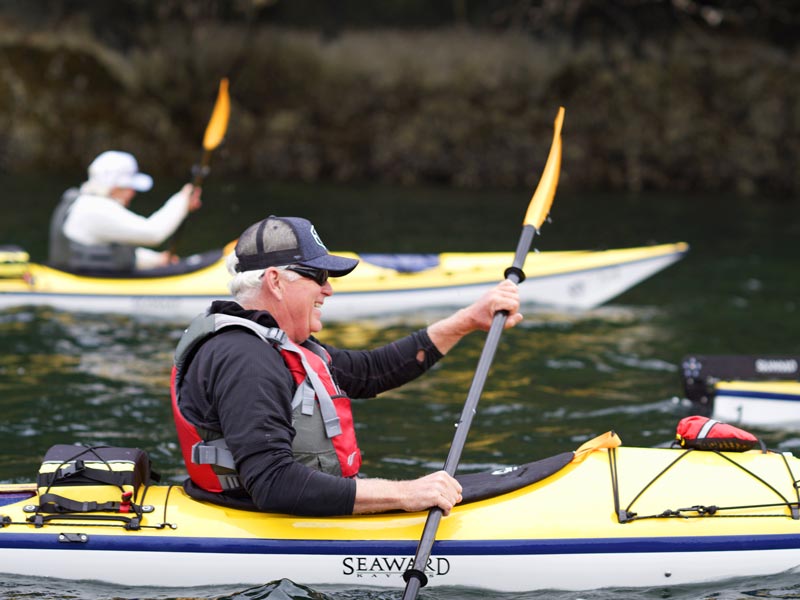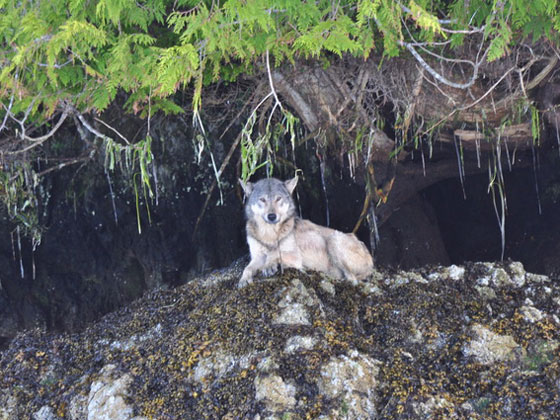 TOUR DURATION: 4.5 HOURS

Daily Departure Times
Apr. 15 – Oct. 15: 9:00am, 2:30pm

Kayaking Tour Rates
Adult (19+): $159
Youth (13-18): $149
Children (6-12): $119

Group Options:
If you are a group of 7–12 and would like to do a longer tour, please inquire about a private 6.5 hour guided tour. Call 1-250-725-2866 or email us for details.
*Online bookings must be made at least 24hrs in advance. To make a booking for a time within the next 24hrs please call for availability.
*Prices displayed are before taxes & fees.
*Please pack your own snacks/lunches or request an add on "Gourmet Lunch" prior to your tour day.

IMPORTANT INFORMATION:
Make sure you read & understand our booking policies and waiver terms before processing your reservation.

We have a maximum capacity of 6 guests to 1 guide for kayak tours.

We are not able to take children under 6 years of age on kayak tours.

12 passengers is maximum capacity per a tour.

Gourmet lunch add-on is available for an additional $38/person

A ecological stewardship fee of $7 will be added to each fare in support of maintaining the marine ecosystem in Clayoquot Sound. Ocean Outfitters donates this amount annually.

View our FAQ's page if you have any questions regarding our tours

Multi-tour discounts available!

WHAT TO BRING KAYAKING:
Bring warm clothes for the boat ride into Clayoquot Sound (long sleeves, fleece or sweater, etc.)

Sunglasses, sunscreen, and a hat for sun protection

A packed lunch/snacks

Drinking water/beverage (no glass bottles please)

A camera/mobile phone

Binoculars

Bathing suit and towel

Backpack or daypack to carry everything

Your smile and a true west coast spirit for adventure!
Are there single and double kayaks?
At Ocean Outfitters we have both Single and Double kayaks to ensure you have the best possible experience whether you are new to kayaking or a seasoned professional. All of our kayaks are made by Seaward kayaks which, are individually handcrafted right here on Vancouver Island.
What should we wear?
Choosing the right clothing is important but can be confusing due the the changing weather on the coast. It is always recommended to avoid wearing denim and cotton if possible as these items retain water and do not dry out quickly. Quick dry or sports wear tends to be the most comfortable and fastest drying clothing. Bathing suits are not mandatory but may be an option on warm days and towels are always a great item to have on standby. The towels can remain locked in the shed on the dock along with the items that you leave behind while kayaking.
What do we need to bring?
The most important items to bring include but are not limited to; water, snacks (ideally things with minimal waste products), sunscreen, hat, sunglasses and comfortable footwear. Additional items can include foul weather gear such as rain jackets and pants should the forecast call for it.
Are cameras alright to take on the water?
Cameras are always nice to have on the tour to help document your experience on the remote kayaking tour. Cameras are brought on your discrepancy as we do not accept responsibility for any loss to or damage of the camera. Cell phones can be brought as cameras.
What if I have never kayaked before?
Never kayaked before? No problem, our program is designed to ensure that kayakers of all skill levels succeed and enjoy the surroundings. The remote dock has been strategically placed in a location to reduce the exposure to some of the common environmental hazards to kayaking such as high winds and tidal current. First time kayakers are encouraged to use a double kayak for the added stability and the benefit of working with another person to learn the basic skills.
Should we wear our shoes?
Wearing shoes inside the kayak is not mandatory but, is recommended. If you select to remove your footwear it should be placed behind your seat so that you can access it at any given time. Ideal footwear for kayaking is something with good tread, comfortable, and low profile. Examples include: Sandals, running shoes/trainers, or water shoes.
Do we stop and get out?
This specific kayak program is based on a 4.5 hour trip away from Tofino and therefore, there are no washrooms once you have left the Ocean Outfitters office. It is highly recommended to use the facilities before boarding the vessel and embarking on your trip. Once we arrive to the remote dock and enter the kayaks there is no beach landings unless it is an emergency.
What wildlife are we going to see?
Wildlife in Clayoquot Sound is bountiful with various aquatic, land based, and aerial species of animals. Common sightings include Seals, Eagles, kingfishers, Sea Stars, Sea Cucumbers, Bears, and Mink. Occasionally we also see Sea Lions and Harbour Porpoises. It is important to keep in mind that this is wildlife and as the title states these animals are not tame nor are they on any sort of viewing schedule. Any wildlife seen is an additional bonus to paddling the calm remote waters of the Tofino Inlet surrounded by Old Growth Rainforest.
Still looking for more…

Do you want your own private kayaking tour?
Learn more about or private charters options.
Looking for a tour to go on in our winter months (Nov. 1 - Mar. 1)?
Check out our 2.5 hours Clayoquot Nature Cruise tour.
Give the gift of adventure!
Gift certificates for all of our tours can be purchased online. See our Gift Cards Page for more details.